The ENSCR's Documentation Centre is responsible for acquiring resources and making them available, to correspond with what is taught and research activities, in the following fields:
– General chemistry, organic chemistry, analytical chemistry, inorganic chemistry, chemical engineering, biochemistry.
– Engineering sciences
– Environment, water treatment and analysis, air treatment, waste management and treatment.
– Mathematics, physics, applied computer science
– Modern languages, French as a foreign language
– Geopolitics
– Economics, business management, finding placements, finding jobs.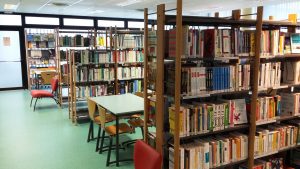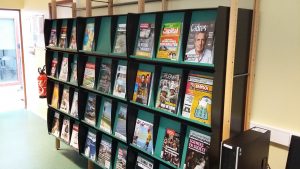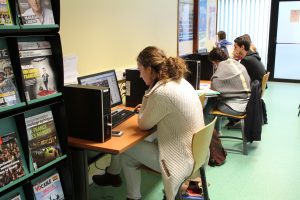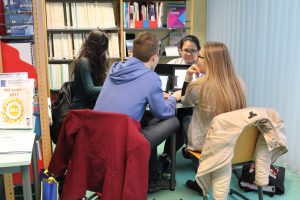 A continually updated documentary resource
Acquisitions are made to the collections to reflect the needs of ENSCR users for information along with existing resources in the libraries of the documentary system.
To ensure user demand matches available resources, the Documentation Centre encourages input from academics, students and research fellows who have a major influence on the Centre and its acquisitions.
Opening hours, access to resources
– The reading room is open to the public from Monday to Friday. There is free access to the collections. the Librarian organises the documents, helps with finding information, lending and all related bibliographic services.
– Computing facilities are available for users (computers, scanners, networked printer etc.)
– The Documentation Centre is closed during the university holidays. However, the on-line resources remain available. Simply connect to the ENT (Environnement Numérique de Travail – the digital working environment) under the heading Bibliothèques (Libraries) to find most of the on-line resources.
The documentation network
The ENSCR Documentation Centre is involved in networking and pooling the school's documentary resources. The aim of a network is to encourage on site or remote access to scientific and technical information, and to provide a documentation service geared to the needs of the various users.
 Université of Rennes 1 SCD Website (http://www-scd.univ-rennes1.fr/)
The ENSCR is a participant in the network of libraries in the higher education establishments in the Greater Rennes Council. Ten higher education establishments are co-operating and making their documentary resources available to all the users (study and consultation on site, borrowing books and periodicals).
Link: Website of the network of libraries in higher education establishments in the Greater Rennes Council (http://www.rennes.supelec.fr/ren/biblio/pages_web_CDGEB/index.html)
The collections available at the ENSCR (books, theses and periodicals) are catalogued in the SUDOC (University Documentation System).
Among the many services offered, the SUDOC enables users to find a document in the libraries which are taking part in this network.
Link: SUDOC Catalogue  (http://www.sudoc.abes.fr)
To contact the Documentation Center,
documentation@ensc-rennes.fr
TéL. 02 23 23 81 05