The Rencontres Thématiques de Chimie (RTC) (Thematic Chemistry Forum),is a voluntary association under the 1901 law for 2nd and 3rd year engineering students at the ENSCR, that has been in existence for about ten years.
The idea is to bring together industrialists, teachers, research scientists and students by organising a two-day scientific conference on a cross-disciplinary subject area of interest to manufacturers in chemistry, agrochemicals, pharmaceuticals and cosmetics.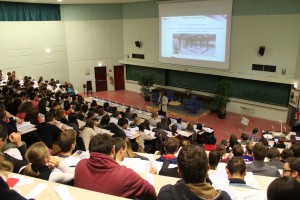 A programme of talks is drawn up around a subject area by a scientific committee of our industrial partners.
This conference brings everyone up to date on new regulations, installations and technological developments and includes analyses of actual cases.
The speakers are mainly drawn from industry.
The purpose for the students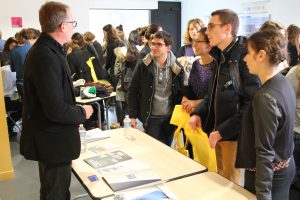 From an educational point of view, the RTC gives the students on the organising committee an opportunity to learn how to set up a scientific event. It is also an excellent way of developing planning and organisational skills and, in addition, of boosting team spirit.
For ENSCR students, the RTC is an important opportunity to develop their professional network and to have conversations with industrialists, in an environment that differs from a placement.
Benefits for industrialists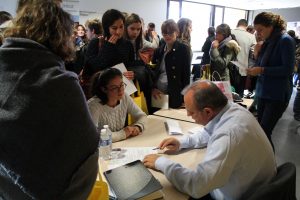 For the industrialists, this is also a good opportunity to make engineering students aware of their company, to have direct contact with future chemical engineers and discuss the opportunities for careers that are on offer.
Contact the RTC
By post to École national supérieure de chimie de Rennes – Rencontres Thématiques de Chimie, 11 allée de Beaulieu, CS 50837, 35708 Rennes cedex 7, France
By telephone: 02 23 23 80 61 ou 80 85
By email:  cripse@ensc-rennes.fr