A catalyst is a chemical used in a chemical reaction or which accelerates the speed of the reaction. Catalysis plays a central role in the modern Chemistry and can be found everywhere in the industrial production of components with enhanced benefits. We therefore find that 25% of manufactured products have undergone at least one catalytic stage (60% in the Chemistry of "plastics"). The challenges of catalysis include: making changes thought to be impracticable because they are kinetically too slow; developing these changes in fewer synthesis phases (saves time and money); activating inert molecules like some gases; increasing the selectivity of the reactions by encouraging the formation of a product.
De par son importance industrielle et économique, le développement de catalyseurs constitue aujourd'hui un des thèmes les plus étudiés dans la recherche. La catalyse, qu'elle soit hétérogène ou minérale, homogène (organométallique, de coordination ou moléculaire), nanoparticulaire (nanoparticules métalliques), ou microbiologique (enzymatique), joue un rôle primordial dans le développement d'une chimie verte et durable en favorisant la valorisation de matières renouvelables d'origines diverses (monde végétal ou animal), et tout en privilégiant l'utilisation de solvants propres.
Les sous-thèmes
Nanocatalyse 
Nouveaux catalyseurs métalliques de taille nanométrique (10-9m) en solution ou sur support. Nanocatalyseurs originaux plus actifs et/ou sélectifs et recyclables.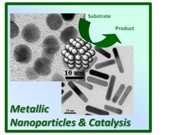 Métathèse des oléfines
Simplification des voies de synthèse de molécules d'intérêt industriel dans un contexte de Développement Durable (Pharmaceutiques, Chimie du Végétale, Matériaux Bio-sources).

Catalyse asymétrique
Design de ligands chiraux éco-efficients (Carbènes N-Hétérocycliques & Phosphines) dédiés à la synthèse de molécules optiquement actives.
Biocatalyse
Développer de nouvelles voies de synthèses plus respectueuses de l'environnement catalysées par des enzymes. Création de banques de biocatalyseurs spécifiques de sucres rares.
 Catalyse hétérogène
Comprendre les mécanismes d'action des catalyseurs industriels pour les optimiser : approche combinant synthèses, caractérisations structurales et modélisation.
 Photocatalyse
Modélisation, intensification et industrialisation des réacteurs photocatalytiques. Validation en conditions des catalyseurs et photocatalyseurs.