We could not have had any of the great technological revolutions without the research and work performed in the field of the Chemistry of materials. The purpose of chemistry of materials is to improve our daily life so we can find aspects of it in almost everything we do. 
Les sous-thèmes
Matériaux pour l'énergie
Mieux comprendre les propriétés de transport de composés générateurs d'électricité par effet thermoélectrique et synthétiser de nouveaux matériaux performants. Synthétiser et caractériser de nouveaux matériaux d'électrodes pour les batteries lithium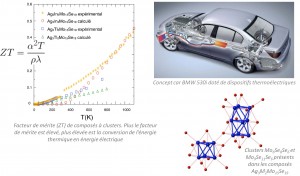 Matériaux pour l'optique
Comprendre les propriétés structurales des verres pour l'optique infrarouge à l'aide des outils de la simulation. Mieux connaître la structure des matériaux inorganiques pour l'optique.
Biomatériaux
Développer des matériaux plastiques biodégradables et/ou biosourcés. À partir d'huile végétale : polyuréthanes (NIPU = non-isocynate polyurethane) et polyesters biosourcés, additifs plastiques « verts » ; À partir de protéines seules ou en mélange avec d'autres polymères : films d'emballage barrière aux gaz. Matériaux sandwich, multicouches, vecteurs de principes actifs (patchs, matériaux bactéricides).
Valorisation végétale et marine
Concevoir et produire de nouveaux tensioactifs écocompatibles à partir de matières premières renouvelables pour des applications dans les domaines de la cosmétique, la détergence, l'industrie routière, la santé, …