Great technological changes rely on continuous progress and research concerning materials and material chemistry. It aims at improving everyday life through many different aspects.
Main research topics
Materials for Energy
Better understand the transport properties of compounds able to produce electricity through a thermoelectric effect and from there synthesize new more efficient materials. Synthesize and characterize new electrode material for lithium batteries.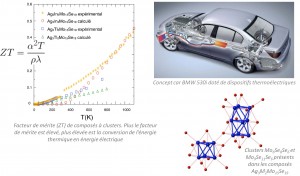 Materials for optics
Unrevealing the structural properties of glasses of infra-red optical devices using simulation tools. Getting a closer insight of the structure of inorganic materials for optical applications.
Biomaterials
Develop biodegradable and/or bio-based plastic materials. Based on plant oils : polyurethanes (NIPU = non-isocyanate polyurethane) and polyesters, green plastic additives ; based on proteins, alone of blended with other polymers : air tight wrapping films. Sandwich and multilayer materials, vectors for active subtances (patches, bactericidal materials).
Plant and marine biomass valorization
Design and produce new ecocompatible surfactants from renewable resources for applications like cosmetics, detergency, road industry, health …