The ENSCR is a regional and national key player in innovation in Chemistry. Its ground-breaking policy for innovation has been rewarded several times over the last few years (trophée regional de l'innovation, prix Tremplin du Sénat, prix de la Société Chimique de France).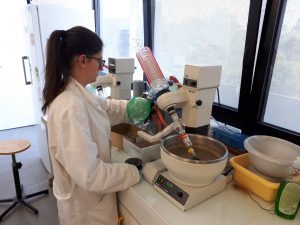 The work that it does at regional, national and international level and in the innovation networks to promote the results of its research are embodied in various kinds of contractual relationships:
industrial contracts
European contracts
R&D contracts within the Competitive clusters
patent-licensing agreements
contracts to provide services in collaboration with l

aboratories, technology platforms and Business Units

contracts to hire premises and business incubators.
The strategic directions for promoting our research
Develop the " promote and transfer" culture among the research staff through targeted training and awareness programmes
Set up a strategy of proactive identification of projects for the research laboratories
Develop the policy for contracts
Be more aware of the needs of social and economic players
Develop a strategy to protection intellectual property and licensing
Develop an entrepreneurial culture and support the creation of new companies
Make our promotions international
To help us do this, the ENSCR has the benefit of the expertise of Ouest Valorisation – a Technology Transfer promotions – in the fields of intellectual property, maturing R&D projects, technology transfer and negotiating research partnerships.
Contact: Ambroise Couvercelle, Chargé de la Valorisation
tel +33(0)2 23 23 80 50
ambroise.couvercelle@ensc-rennes.fr