Engineering students belong to a wide range of clubs that allow them to relax and have fun.
Theater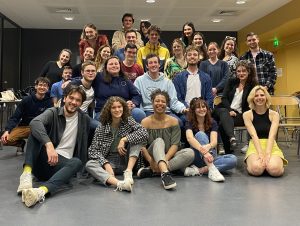 This club was born in March 2022. It is made up of around thirty students divided into 3 groups who will each present a play (comedy, tragedy) in February 2023 during a final performance. The club is in partnership with the ADEC, house of amateur theatre. Located in Rennes, this association specializes in supporting amateur troupes in the region. The ADEC has a theater room which will be made available to students in order to be able to carry out 2 general rehearsals before the big performance in February 2023. This club also offers theater evenings (improvisation) open to all within the school. 'ENSCR.
Music

This club offers regular rehearsals to the school's musical students based on various cover versions and adaptations. This club also performs at some of the school's events like the Gala. It also keeps students informed about concerts taking place in Rennes.
Afterwork
It aims to offer pleasant moments in the home after classes, to discuss, exchange or enjoy the terrace of the new home students.
Culture
The art club offers students seats at performances (dance, theatre etc.) at very low prices. This club also informs students about the various cultural events taking place in Rennes.
Dance
This club, provided by the students' union, gives students a free introduction to various kinds of ballroom dancing, line dancing, rock and roll, hip-hop, reggaeton etc. in a friendly atmosphere open to all level. Students who would like to discover the Breton culture can also take a course of traditional dances. Finally the dance club gives information about dance events in Rennes throughout the year.
Poker
The club organises regular evenings so that students can meet and compete.
Bacchus   
The Bacchus Club offers social evenings to students at the school where they can discover French produce. The students can taste and discover specialities from all over France.
Rally
This club organises a Rally throughout Brittany every year. The students can leave on this adventure on individual floats that they have decorated themselves. Various games and entertainments await them at each stage of the journey followed by a delicious meal and a night in comfortable lodgings.
Cheer leaders  
This club provides exciting and rhythmic performances that represent the school at all the sporting events in which it takes part (Inter engineering school tournament, etc).
Photography
This club organises photographic outings for students who are interested in photography and who wish to learn or share this art-form. This year, the photo club is also taking a group photo of the year.