Since 2008, the ENSCR has been authorised to award PhD degrees in joint accreditation with the doctoral school "Material Sciences" (SDLM). This doctoral school consists of other establishments such as the University of Rennes 1, the INSA in Rennes, Agrocampus and the Irstea.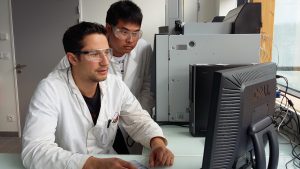 PhD training at the ENSCR means day to day teaching and a close collaboration between the PhD student – with a Masters-level degree such as a engineering degree or a research master – and his or her supervisor.
The ENSCR has five research teams for whom innovation, design, and the knowledge industry are essential.
Students preparing a thesis at the ENSCR, and PhD students working on theses with joint supervision automatically join the SDLM (Material Sciences) PhD school.
Among other things, PhD students undertake, in addition to their research work:
to accept the principles in the ENSCR doctoral charter
to follow 48 hours of teaching over the three years to enlarge their broader knowledge of science and prepare for life after their thesis,
to attend lectures offered by the UMR 6226 Institut des Sciences Chimiques de Rennes.
Currently the ENSCR has around forty PhD students and post-PhD students across its different research laboratories.
The Rennes Chemistry School René Dabard Thesis Prize
This prize has been organised every year since 2012. It is open to everyone in France with a doctorate, without restriction on their place of study.
Its aim is to reward a young scientist for research work carried out in molecular chemistry, solids and materials chemistry, or chemistry and environmental engineering.
This prize is awarded to a doctor of chemistry whose work is of a high scientific quality and has contributed to the advance of scientific knowledge, technological innovation and a better understanding of social and environmental implications.
The thesis prize is awarded by a jury composed of people recognised by the academic world and in the socio-economic field. The criteria for assessment include the originality of the topic for research, risk-taking and travel, and scientific production (publications, patents and prizes).
The winner receives a prize of 1,500 €. A second prize is awarded of 500 €.
The applicants must have presented their thesis in the course of the previous year.
A application of five pages maximum should include a CV and a summary of the thesis work, explaining the prospects opened up by the results of the thesis. This file must be sent by e-mail to direction-scientifique@ensc-rennes.fr by the end of March of the current year at the latest.
Contact
For full information, contact the Studies and International Mobility Department on 02 23 23 80 39 or by e-mail  
scolarite@ensc-rennes.fr