Throughout the length of the engineering course, placements are compulsory and form an integral part of the Professional Project of each student-engineer. These periods spent inside a company, a research laboratory or a public body, enable them to develop their general, technical and managerial skills. They end with the student writing a report and presenting it orally; both are assessed.
In order to bring businesses closer to our students and to support them in their professional project, our institution has set up a Career Center in partnership with JobTeaser. To submit your internship or employment offer,

click here.
Placements
These are divided as follows:
 1st year: duration = or > 8 weeks, beginning in June.
Aim: to discover industrial life, and apply the student's early knowledge and skills.s.
2nd year: duration = or > 13 weeks, beginning in May, preferably abroad.
Aim: to conduct a technical project on an industrial problem, to acquire abilities related to this practical situation, and to become familiar with the culture of a country where French is not spoken.
3rd year: duration = or > 18 weeks, beginning in February-March.
Aim: to complete a large-scale project, covering technical, management and administrative aspects, in a company or in a research laboratory or as part of a Research Master. Increase in independence.
Contactez the Placements department, tél. 02 23 23 80 48 ou
stages@ensc-rennes.fr
Jobs
The high-quality training in chemistry offered by the ENSCR is recognised by industry as a gateway to valuable and diverse professions. The 1800 ENSCR graduates currently in employment occupy a variety of posts around the world in practically every major field of industry and services, as is revealed by the periodic surveys we make to place and monitor our engineers
An Employment service operates at the ENSCR not only to maintain relations between graduates and companies, but also to ensure that our training remains suited to the world's needs.
Contact the Employment service, tél. 02 23 23 80 48 ou
stages@ensc-rennes.fr
  or you can also contact the Industrial Relations Department, tél.02 23 23 80 61 ou 80 03 ou
relations-industrielles@ensc-rennes.fr
The Employment Survey 
Each year, a survey of employment draws up statistics on the job situation of the last two years of graduates. These enquiries are undertaken at the initiative of the CGE, Conférence des Grandes Ecoles and of the Gay Lussac federation of 20 schools of Chemistry and Chemical Engineering. These surveys serve to analyse the professional success of recent graduates from the ENSCR and to support the constant educational debate that goes on within the school's academic committee. In addition, the ENSCR continuously monitors new graduates each year.
See the results of the CGE surveys for 2013 and 2014.
The sectors of employment which graduates of the ENSCR enter are recorded each year.
Personal accounts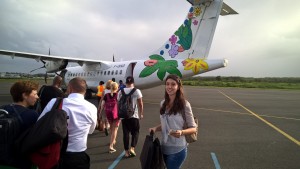 (Clarisse LE GALL, 2014 year, engineer and project manager for the Société de Travaux Antilles-Guyane)
"In my last year of EPA, I specialised in Processes and Processes for the environment with an option in analyses for the environment. My last placement with SOURCES meant I could finish my training as the engineer in charge of dealing with tenders for the construction and rehabilitation of waste-water and drinking-water treatment stations. This placement led to me being recruited, in Guadeloupe by the company SO.TR.A.G, (a civil engineering company in the West Indies and Guyana), in a similar position as an engineer and project manager. Now, as well as dealing with tenders I monitor the current construction projects, tenders successfully bid for, and smaller worksites, and commercial development in the region of Guadeloupe. Thanks to the ENSCR, its network of ex-students and its contacts with businesses, I found it easy to settle into my career."