One of the commitments of the ENSCR is to welcome students from throughout the world into its foundation, engineering and PhD courses.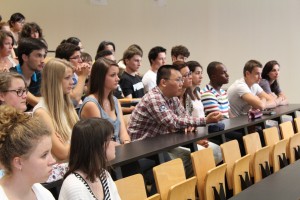 Whether they are looking for short or academic exchange courses lasting one term or a complete degree course, foreign students will find that the ENSCR offers very good conditions for reaching their goals.
The School welcomes international students at all levels and for a wide range of situations and programmes (visiting students, exchange visits, integrated programmes, bi-national programmes, Erasmus+, placements in laboratories etc.). There are students of twenty or so nationalities from all over the world currently studying at the ENSCR.
Applying for a foundation course
More information here
For applicants with a qualification obtained abroad
They must download, fill in and send an application form to ENSCR's Service Etudes et Mobilité internationale (Study and international travel department) before 30 May.
 Students wishing to follow part of their course at the ENSCR on an exchange programme must  fill in the form to apply to register for an exchange.

 Students wishing to make a speculative application in the 1st, 2nd or 3rd year of the engineering course must fill in the Foreign student application form for admission to ENSCR Engineering and Master's degree Programs.

 Important Applicants who have made an application through Campus France must also send an application to us.
Our best foreign students, usually following the Chem.I.St international course, are put forward for the EIFFEL scheme of scholarships for excellence. The School a has had regular prize-winners. For more information on the EIFFEL scheme, go to the Campus France website: http://www.campusfrance.org/fr/eiffel
A French as a foreign language course is offered to all exchange students during their stay in Rennes.
Admission leaflet for foreign students
Help with settling in
To help foreign students settle into life in Rennes, the ENSCR international relations department offers help with areas of daily life: , residence permit, banking, registering with a mutual social insurance company.
Welcome foreign students
The CMI Rennes provides services for international students, PhD students, and researchers who are participating in international mobility programmes on the Rennes site. Its objective is to enhance the welcome of incoming mobility students and to contribute to the development of the mobility of Rennes students
The following of CMI aims:
– Services for international undergraduate and graduate students
– Services for international PhD students
– Services for international researchers
– Development of international mobility among Rennes-based student
– Communication / Events management
Download Guide for international students
Download Guide for PhD and researchers
Félix Schroen (GERMANY)
« The double degree program between the ENSC Rennes and the TU Dresden offers an opportunity for chemistry students to discover a new culture, a new language and a new education system during their studies. Besides the sometimes busy course program, they have the possibility to meet new people and to form international friendships and contacts. This in combination with gaining new language and intercultural skills as well as the acceptance of all course achievements thanks to the study agreement between the 2 institutions allows to get valuable experience of life without losing time in the curriculum. »
Crous accommodation request for international students
For new arrivals in France, it is possible to go to the Crous site to find university accommodation. International students can claim it by applying to Crous during the month of June. More information on Crous university residences on https://trouverunlogement.lescrous.fr/.
In order to support them in their process of arrival in their accommodation, it is advisable to inquire with Selectra to compare and be helped for the implementation of your electricity contracts.